The three remaining HAA hoppers in the dead line - circa 2016
A toad van I've bashed to become a track inspection car
A trio of my EWS wagons which I retired when I switched to American rolling stock.
these wagons now see much better use on a more suitable layout belonging to a friend

different types of wagons used on the layout
American HO
British OO
bashed wagons of multiple kinds
it has came to me that my wagon fleet has decreased in size. i started out with 80 then ended up with 31 due to "unforeseen events"
here is what can be classed as legitimate stock
Possible runner wagon?
there must always be one EWS in the lot
grain wagons taken too literally
AL5 pulling a rake of refurbished repainted coal hoppers that make up most of my wagon fleet
PRONE TO SPILLAGE THOUGH!
Flat deck wagons. Useful for everything
always nice to have a single little steam engine in with the rest
I'm still not sure what this is suppose to represent
Powered by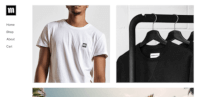 Create your own unique website with customizable templates.